Australians are blessed with kilometres of coastline, so it is natural we love that same beachy, relaxed vibe in our own homes. There are a number of simple ways to create a trendy coastal style regardless of where you're located, creating a space you won't want to leave. Textures and patterns work well for this specific style, as they add interest without the need for strong use of colour.
Instead of making bold statements, muted and washed tones mixed with natural components complement the appearance. Consider piles of cushions, throws and large floor cushions for those lazy summer afternoons (subsequently restyled to maintain the coastal appearance in winter). Here, the important points you will have to help you transform you home into a coastal retreat.
BEACHY COLOURS
A sure winner of the coastal or beachy feel is a background of white or neutral tones. Milky whites or vanilla tones work flawlessly to create a cool, tranquil background, allowing your colours to subtly pop.
Consider muted shades of blues and greens – even a simple navy will suite. You may introduce your colours with accessories and furniture, allowing your neutral theme run through the space in walls, ceilings and woodwork.
COASTAL FURNITURE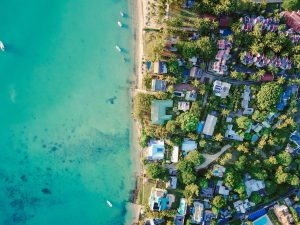 Large lounges with neutral-tone slip covers are an excellent choice to fall back on and enjoy with the whole family and the removable covers will give you piece of mind of having white furnishings.
Larger pieces, like sideboards, work well in washed grey timber tones, creating that aged effect and cause them to feel lived in and comfortable. Introducing a few white or white-washed pieces will make the room feel like the beach house we all crave.
COASTAL DECOR (IT'S MORE THAN SHELLS)
There's no need to go overboard with shells and pieces of driftwood to create that relaxed coastal vibe. Rather, a subtle nod to this style will have more impact. Washed-back picture frames, big glass bowls or bottles and vases in teals and blues all work to set the tone.
Rugs are also ideal as they provide a means to introduce texture and colour. Open-weave rugs in natural fibres work nicely in almost any room for great coastal interior design
TROPICAL INDOOR PLANTS
Large indoor plants work so well for that coastal vibe, blurring the lines between inside and out.
Large plants with glossy and broad leaves help create the island-paradise tropical feel, while the deep greens sit very nicely with the whites, neutrals, blues and washed greys. Colourful and tropical flowers in large pots help add a lush and vibrant look and feel, while still providing some additional drama to the space.
BEACH HOUSE BREEZE
One of the simplest ways to offer a coastal vibe would be to open up your windows and allow the natural light in. Take down those heavy winter drapes and replace them with soft sheers, and let them move with the breeze.
If you have the budget, add some plantation shutters or the cheaper alternative of wide-blade venetian blinds to control the light on warmer days.