Have you just moved home or are you looking at updating your existing home a little? There are some popular interior design and decor tricks that interior designers in Sydney use and you can use them as well with minimal cost and effort involved. Did you know most times it is the smallest things that have the most significant impact? It could be from just adding a lamp or plant to mirrors on the wall or some fresh artwork.
Perhaps you want to brighten a room, soften the walls or bring some warmth to the living room. With the housing marketing booming and increasing demand for property in Sydney, many smaller apartments are being built and cramped in to satisfy the need for housing. Here are some top interior tips that will inspire you and change the way you design and decorate to make the most out of your space.
Paint small rooms in soft, lighter colours
The living room is an excellent example of just how you can maximise a small area. Living areas tend to be cramped but can be made more pleasant through soft coloured walls. Mirrors reflect light walls and light coming in from windows and doorways and give the illusion of a more spacious area. Using dark colours will make a room appear small or cramped. Dark places will have a boxed-in feel to them which you want to avoid at all costs.
Add mirrors for more light 
Mirrors can be used to make a small room appear bigger. If you place a mirror right across from the window, it will add more light to the space. Decorative mirrors can be used instead of art if you want to fill in ample wall space. Whether they are small or big, the mirrors will add dimension to the room.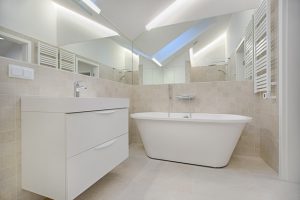 Mix up textures and patterns
There is nothing wrong with adding some heirlooms right next to your modern sofa. Your house design should show your personality and who you are. Your family heirlooms tell a story, and there is no reason why the past and the present cannot work together. The same goes for artwork. You might not want to put a painting by Monet next to Salvador Dali, but there is no reason why they cannot be placed in the same room together. When talking fabrics on furniture such as throws and pillows, varied patterns and colours can bring in texture and warmth.
Use slipcovers
Slipcovers have been known to get a bad rep, but they are great things. They will serve as a way to change the look of your furniture and to reflect the current season. They are easily removable when you want to, and keep your furniture safe from dirty hands and food and drink spills on your furniture. They can slip off easily to be washed and adding a white slipcover to your couch will give it the look of elegance and sophistication, yet maintain comfort.
Using wicker baskets
Wicker baskets are gaining popularity and are a relaxed, yet elegant way to add storage to your home. You can use them in places like your pantry to store food or in your laundry to store bits and bobs like soap powders, brushes, pegs and more. They are great for storing books and toys to help keep the toy area clean and organised, and they work well in an office for storing paperclips, pens and notepads. Wicker baskets are a practical way to organise and minimise clutter.